Kyoko, a Japanese woman far from ordinary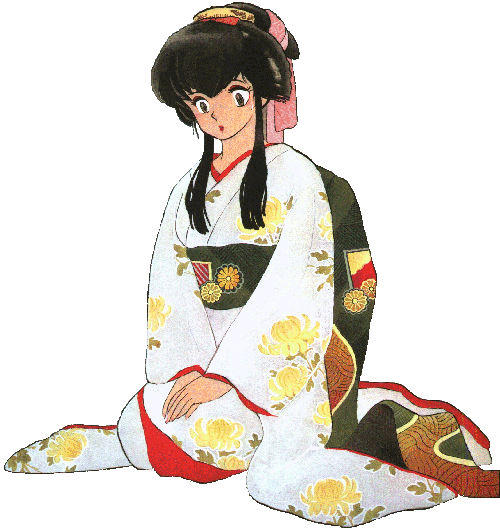 In a country like Japan, where respect and obedience to parents is a strong cultural value, Kyoko fights very often with hers and always succeeds to do whatever she wishes to. Her arguments and her fights with them reveal her independent and intransigent mind.
Throughout the series, she won't really act as an ordinary Japanese woman. Although Maison Ikkoku is primarily a romantic comedy, Rumiko Takahashi gave to that character stronger traits than to all the others and maybe tried to express also what, in her opinion, should be a Japanese woman : carrying out her life as she wishes to, ignoring her family pressures and able to live without necessarily a man's support.
Kyoko is a perfect housewife, able to do any task her duty requires, and more, seeing how she takes care of Ikkoku-kan's family.
Several times, it will be mentioned that the one who will marry Kyoko will be very lucky. But Kyoko is self-sufficient.
Women pictured in Maison Ikkoku by Rumiko Takahashi, when they are neither married nor students, have a job and earn their money. Kyoko as a kanrinin, Kozue as a bank employee, Akemi in a cafe, etc... married women, on the other hand, stay at home and take care of the household : Ritsuko Chigusa, Hanae Ichinose, Mrs. Nanao, Ikkoku-kan's neighbors...
In her relationship with Yusaku, Kyoko focuses on feelings. She doesn't need a man's support in any way in her every days life and it seems inconceivable to her to get involved with someone she wouldn't feel an absolute and shared love for.
It's also for that reason that it will be so difficult for her to admit that her feelings for Yusaku are more than friendship. She feels she would betray Souichiro, were she to fall in love with another man, that this love she had felt so deeply for him, would have been finally just a lie.
The main reason for her arguments with her parents (especially with her mother, her father would prefer her at home) is her constant refusal to remarry with anyone.
That way, Kyoko rejects the Japanese tradition of arranged marriages (Omiai) still very frequent in today's Japan (Shun Mitaka, by the way, will be the "victim" of such a marriage) and she doesn't want to forget her former husband.
The other reason for her arguments is that she refuses to come back to live with her parents, preferring to work at Maison Ikkoku. It's obvious her parents love her and suffer a bit from her being away from them, but she knows she can't go back there without losing her independence... and, about Maison Ikkoku, she says several times: "my life is there !"
A young girl, 19 years old, leaving the family's home to marry and then, once she's a widow, going to work, is surely far more than ordinary...
Nevertheless, we will notice a change in Kyoko's attitude near the end of the series, when her commitment to Yusaku is definitive : she becomes more submissive and more compliant to the way a Japanese woman can be pictured. Leaving the decisions to Yusaku, stepping back...in short, she gets back in the ranks, forfeiting her independence to devote herself to her husband and, later, to her child.
That attitude change is obvious when, before the wedding, Kyoko and Yusaku must go to Niigata to meet his parents. Kyoko lets him know that it's up to him to make the decisions that involves the both of them. And after the wedding, at the party, it's Yusaku who talks in the name of the couple...
Ah, that wedding... because yes, of course, Maison Ikkoku ends by a wedding. And it's also for that reason that it's an outstanding series : the ending is a true ending. All characters find their place, their reason to be and above all, for Kyoko, it's like a Rebirth