Next gallery
Previous gallery
Media Home
Home
Music and sound clips gallery
Here are some rare as well as popular musics from Maison Ikkoku and some unique sound clips sampled directly from the tv series LDs.
Some of them bring up some wonderful memories from the series. I cannot listen to them without smiling. I hope you will enjoy them as mush as i do.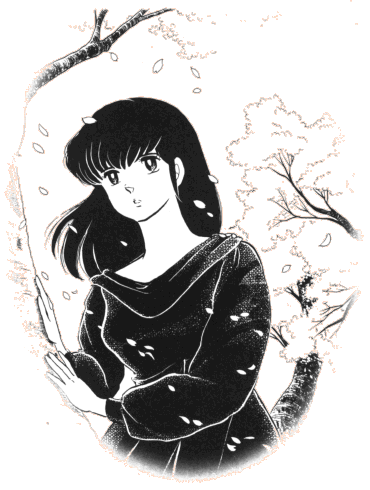 Maison Ikkoku's MP3
Maison Ikkoku Extra Songs (MP3 Page)
Maison Ikkoku Best Selection (MP3 Page)
Sound clips (japanese)
"Gambatte kudasai ne !" (good luck) by Kyoko (132.2 Ko)
Other version of the same (26.3 Ko)
Kyoko introduces herself for the first time (94.1 Ko)
Part of the puppet play at Godai's university (276.7 Ko)
End of the episode of the puppet play (330.4 Ko)
Kyoko mistakens Godai for Souichiro at sunset (658 Ko)
Kyoko runs after Godai to get him back at MI (692.5 Ko)
Godai narrating the story of a rock (236 Ko)
Whole scene and "foreplay" of Kyoko-Godai's first kiss (Warning : 2.2 Mb)
Video : The scene above complete in images (MPEG 50Mb)
Video : Ending credits of the movie "Maison Ikkoku Kanketsuhen" (MPEG 44Mb)
Video : Maison Ikkoku Extra (Kanketsuhen's trailer) divx, french subtitled ! (Thanks to Baf & Ookaze) (67Mb )
And more to come...